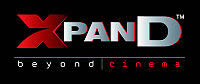 CANNES, France – As the demand for 3D cinema continues to increase throughout the world, XPAND 3D continues to grow its international leadership position in the 3D cinema industry. XPAND is once again the exclusive 3D technical partner for the 2011 Cannes Film Festival in 2011, where XPAND is also pleased to announce its continued commitment to the global cinema market through new product developments and support for 3D cinema.
For the 64th Cannes Film Festival, XPAND will provide the required equipment and training of personnel for all of the 3D films presented at the Festival, and supplying its 3D technology for other divisions of the Festival including Un Certain Regard, Cannes Classics and more.
Reflecting XPAND's commitment to providing the most advanced 3D solutions for professional cinema, XPAND recently introduced the XPAND Infinity™ complete 3D system, which provides the best possible viewing experience in cinema environments of any size. It offers optimal 3D performance with multi-directional synchronization and the highest 3D contrast ratio ever delivered. The XPAND Infinity system can support virtually any screen size, shape and surface and is available with a choice of XPAND Infinity or XPAND Infinity Deluxe eyewear. An unlimited number of XPAND Infinity systems can be linked together to operate as a large-scale system.

The XPAND Infinity system was recently deployed for the world premiere of Pirates of the Caribbean: On Stranger Tides, held on May 7 at Disneyland in Anaheim, California.
XPAND 3D systems are installed in cinemas worldwide, with 90 percent of the 3D cinema market share in Japan and more than 50 percent in mainland Europe. In the past year, XPAND 3D glasses and systems have been featured in a variety of shows and events including the Venice International Film Festival, The Sitges International Film Festival of Catalonia, Paris Haute Couture Week, the Pebble Beach Concourse d'Elegance and other events.
"XPAND 3D is all about giving moviegoers the most realistic and emotionally captivating cinema experience available," stated Maria Costeira, CEO, XPAND. "We continue to bolster our international presence as 3D continues to grow in popularity among filmmakers, theater owners, event production companies, professional and consumer electronics manufacturers and movie enthusiasts."
For more information on XPAND, please visit http://www.xpand.me
About XPAND:
The global leader in the 3D market, XPAND Universal 3D Glasses are the only 3D glasses that work with all the 3DTV brands and models, 3D computers, 3D gaming consoles and cinema. Its 3D glasses are affordable for cinema owners and home users while providing 3D quality that was originally available only at a professional cost. XPAND has the extraordinary combination of experienced and visionary leadership, state-of-the-art technology, and economies of scale that will provide a backbone for the cinema and consumer electronics industries as they further transition into the 3D future. X6D Limited is a global company whose products and services are marketed under the XPAND 3D brand name. XPAND 3D was created by industry veterans in theatrical exhibition, entertainment, film production and distribution, and specialty film and digital technologies and is funded by a European investment fund. XPAND 3D technology is used by over 3,500 3D cinemas in more than 50 countries and is the 3D solution of choice for post-production houses, educational and professional 3D applications. XPAND 3D designs, manufactures and OEMs a range of consumer electronics 3D solutions that are driving the 3D revolution.
Related Posts: