The end of the year is a good time to summarize my favourite open source home automation system LinuxMCE. I'd like to start from the most important thing in my mind – building packages for version 1004 based on Kubuntu 10.04. Finally we have a chance to use modern OS with Long Term Support. That version is not stable yet but this is a very good present for New Year!
In addition to that the LinuxMCE has a lot of improvements. It becomes more and more user friendly. A big number of devices are plug-n-play now. For example, huge work was done to simplify DVB card installation. Now most of them are recognized and added by system automatically.

PVR software used in LinuxMCE also was updated. Currently it follows by the developer version of Video Disk Recorder – VDR – 1.7.XX which gives support of DVB-S2, HD channels and VDPAU. MythTV users also have actual version in LinuxMCE (not quite sure if it's the latest one).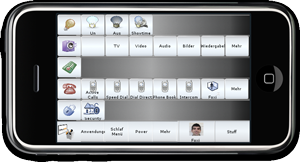 Big improvements were done with Orbiters. First of all the Web Orbiter was redesigned to use Ajax technology. So, now it work ten times better then previous version. Also it gives possibility to use any device with web browser to efficiently control the system. Also native Orbiters for iPhone/iPad/iPod Touch and Android devices are in development now.
Company Dianemo which install commercial version of LinuxMCE shared with community its latest custom feature – possibility to control AV devices via UPnP. Currently it supports WD TV Live HD Media players and Sonos Zone Players. User can manage those devices from any Orbiter in the system. Company is planning to add more UPnP devices soon – media players, Blu-ray players, TV's, audio amplifiers, UPnP NAS's etc.
LinuxMCE supports a big number of home automation technologies and devices. Currently user has a choice between Z-Wave, EIB/KNX, X10, Insteon, PLCBUS or EnOcean. Also 1-Wire support can be added soon. The range of equipment and devices becomes wider. New X10 PC interfaces, Z-Wave thermostats and various sensors were added this year by LinuxMCE developers with community help.
If you need only automation part of LinuxMCE you may be interested in the mini distribution. Currently it's available for Fedora 12 and 13 in both 32bit and 64bit and includes only Z-Wave support. That version of LinuxMCE can be installed on GuruPlug or some other plug PC, for example. It gives a possibility to have compact and energy-efficient home automation controller which can be easily integrated with LinuxMCE core later.
In conclusion I'd like to say a big thank to all LinuxMCE developers and community members who improve the system as they can. I wish all the best to all LinuxMCE users! Be patient and help community somehow – a new device template, patch, bug-report, testing etc. I'm sure together we'll able to build perfect open home automation system! Happy New Year!
Related Posts: