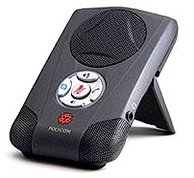 Polycom has released a Communicator for Skype:
This high end speakerphone has been designed to deliver flawless sound and eliminates any disturbances in the background like echoes etc. The Polycom Communicator is also capable of high-quality audio output for playing music, games, etc. and seamlessly integrates with the Skype software.
It will be available by June end for a price of US$129.
Related Posts: