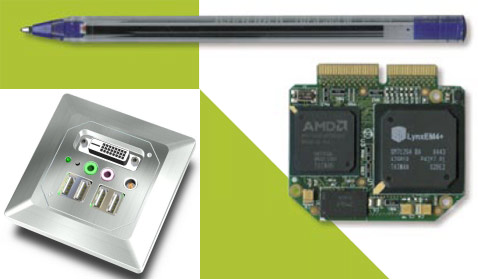 I found this mini PC when I read Plutohome support forum. This is Jack PC. It looks like a wall outlet but inside this miniature you can find:
AMD Au1550 Alchemy processor, 500 MHz RISC (equivalent to 1.2 GHz x86TC Processor)
RAM 128 MB DDR, 400 MHz
Video – 1600×1200 16M (True Color)
10/100 Fast Ethernet, twisted pair (RJ-45) with Auto-negotiate
4 USB 2.0 compatible ports
Audio Output/Input 3.5 mm (1/8 inch) jack, full 16-bit Stereo
Microsoft Windows CE.NET 5.2 kernel
It also supports Power over Ethernet (PoE). So, Jack PC gets power and data from LAN. It's really, really incredible computer! Sure, it cannot be used as game PC or work place for software development. But it suits very well for ordinary office tasks.
Related Posts: